Facebook Messenger was the first messaging app to introduce and popularize chat heads (chat bubbles) on Android but, with Android 10, a few other apps got this functionality. Strangely enough, it seems that this change brought some issues to mostly-reliable Facebook Messenger chat heads. Based on reports, some users state that Messenger bubbles are not showing. If you don't see bubbles for incoming Messenger notifications, too, check the instructions we provided below.
Table of contents:
How do I get the messenger bubble back?
You need to enable Messenger bubbles in the Messenger app, Messenger Notification settings, and Advanced Notification settings in order for it to work.
If that's dealt with but bubbles still don't appear for incoming notifications, clear local data, reinstall the app or use an APK to roll back to a newer or older Messenger version.
1. Check in-app settings and permissions
The first thing you should do is check in-app settings. There's an option to allow all, some, or no notifications to appear as bubbles. This option should be enabled by default but you should definitely check it out to ensure that this is the case. In addition, you should probably check if Facebook Messenger has permission to show content above other apps in System settings.
Here's what you need to do:
Open Facebook Messenger.
Tap on the profile photo at the top left corner.
Tap Manage notifications.
Select Notification categories.
Also, navigate to Settings > Notifications > Advanced settings and enable Floating notifications. The exact steps may be different on different Android skins, but you should be able to find Bubbles in Notifications settings.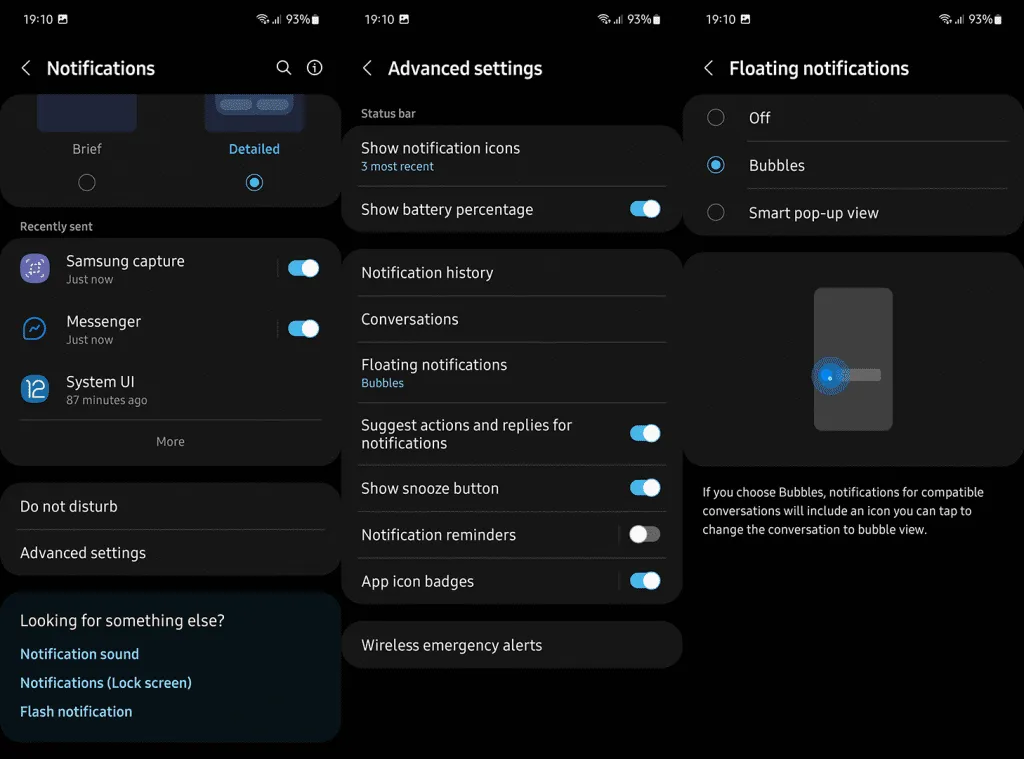 In addition, you should definitely navigate to Settings > Apps > All apps > Messenger. Once there, check for Appear on top permission and make sure that Messenger has permission to draw on top of other apps.
2. Clear local data from Facebook Messenger
An alternative solution would be to clear local data from Facebook Messenger and reset the app that way. Some users report that this solved the issue while others are still stuck with the problem.
Since Facebook Messenger chats are cloud-based, you won't lose any chat data by clearing local data. If this action deletes some photos or videos you saved from chats, you can always get them again in Chat options >
Here's how to clear local data from Facebook Messenger:
Open Settings.
Select Apps. Expand All apps if necessary.
Tap Storage.
Tap Clear Data and confirm.
Open Facebook Messenger, sign in with your Facebook credentials, and check if the issues persist.
3. Reinstall Facebook Messenger
Or, alternatively, you can reinstall the app. This is not all that different than the previous solution but, as an extra, you'll get the latest version of Facebook Messenger available on the Play Store.
Here's how to reinstall Facebook Messenger via Play Store:
Open Play Store.
Search for Facebook Messenger and expand the app.
Tap Uninstall.
Restart your phone and open the Play Store again.
Look for Messenger and install it.
Sign in again and check if the app works.
4. Install a newer or older version of an APK
Finally, we suggest replacing the current Messenger version with either an older one or the Alpha or Beta by sideloading an APK. Some users report that Bubbles started working just like before once they downloaded a newer version. Have in mind that Alpha or Beta versions are unstable and some other features might not work.
Learn how to install APKs on your Android device in this article. Just make sure to uninstall the app you got from Play Store before installing an APK.
And, on that note, we can conclude this article. Thank you for reading and feel free to share your thoughts, questions, or suggestions in the comments section below. We look forward to hearing from you.