Users are already used to getting the authentication code whenever they try to sign in with their Google Account (Gmail account). However, some of them stopped getting authentication codes and are wondering why this is the case. Today, we'll try to explain what to do if your preferred method of Google 2-Step Verification is not working. Learn more below.
Table of contents:
Why is my 2-step verification not sending code?
1. Check for Google Prompts
The SMS 2-Step Verification was the default option some time ago but now Google prioritizes Google Prompts. If you are wondering what are Google Prompts, the answer is simple. It's a new 2-Step Verification method that prompts you whenever there's a sign-in attempt to your Google Account. It's available only on smartphones, both Android and iPhones. Of course, devices need to have an internet connection for Prompts to appear.
So, instead of waiting for an SMS authentication message that never comes, check notification shade for Google Prompts. Confirm that you're the one trying to sign in and you should be granted access. On the other hand, if you can't access Google Prompts for some reason (first set-up after a factory reset or you don't have network access), there are other options you can try.
2. Make sure that you added the correct phone number
This one might seem to be too obvious but it deserves a mention. If you recently got a different SIM card and the different number is associated with your Google Account, SMS Authentication won't work for evident reasons. So, make sure to access Google Account settings and, under the Security section, select 2-Step Verification and add your phone number.
Here's the step-by-step instruction:
On your phone, navigate to Settings > Google and then tap Manage your Google Account. On iPhone or PC, open a browser and navigate here. You might need to sign in.
Select Security from the top tab or left pane.
Choose 2-Step Verification.
Tap on the pencil icon next to the Voice or text message and then tap Change phone.
3. Use Backup codes or the Authenticator app
However, the SMS and Google Prompts are not the only available 2-Step Verification methods. You can also use Backup codes or the Google Authenticator app for the same purpose.
Now, let's start with codes. First of all, we urge you to keep these codes to yourself and hide them if you decide to download them and store them locally or take a screenshot. Google provides 10 one-time-use codes that you can enter when necessary to access your Google Account.
To get the code list, navigate again to Security > 2-Step Verification and open Backup codes. Google will generate 10 codes so after you use all of them, you'll need to repeat this action and get 10 more codes.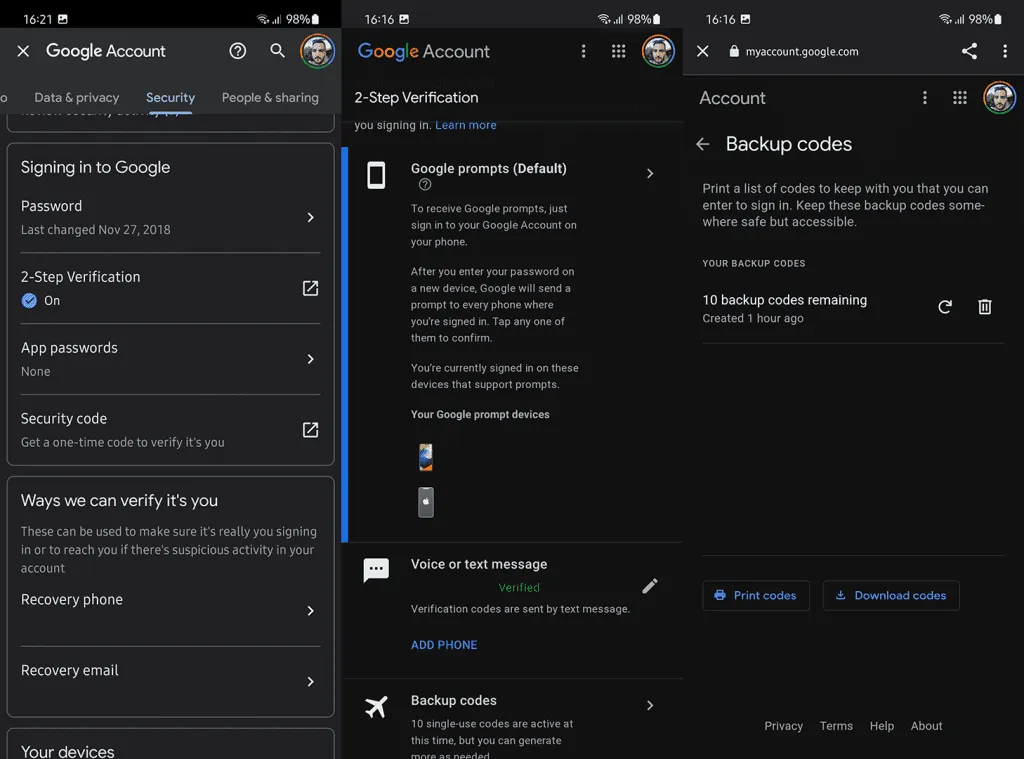 On the other hand, you can use the Authenticator app (get it here from Play Store). Once you download the app and sign in, you'll be notified about sign-in attempts and can use the app to generate authentication codes. Even when the phone is offline or receiving SMS is not an option for whatever reason.
4. Disable and re-enable 2-step verification
Finally, you can try disabling and re-enabling this in the now well-known Security tab of the Google Account Management page. Just make sure to re-enable it although it might look tempting to avoid all those sign-in prompts and repetitive confirmations.
This is how you get your account stolen so we don't recommend it. Since Google started enforcing 2-step verification by default, the reports about stolen accounts dropped by 50%. Hackers might get your password but, in order to take control of your account, they need full access to your phone, too. Which is a highly unlikely set of circumstances.
That should do it. Thank you for reading and don't forget to share your thoughts, questions, or suggestions with us. Do you use 2-Step Verification on all your accounts? Tell us in the comments section below.