Voicemail is quite important for many users around the world and being timely notified about messages your contacts have left you is absolutely critical. And the concept is one of the oldest features, dating from the first appearance of mobile phones. However, some users are not able to dismiss the notification after expanding it. For some, a voicemail notification won't go away on Android and it's permanently stuck in the notifications shade. If that's the case for you, check the steps we provided below.
Based on the reports, some users blame the Voicemail services for this, some say that the notification disappeared after they deleted all voicemail messages. Others say that the problem has something to do with the service provider. You can learn more about this below.
Table of contents:
How to remove voicemail notifications on Android
You should be able to remove that annoying voicemail notification with these steps:
Firstly, restart your Android. In case that fails, force stop the Phone app from Settings > Apps > All apps > Phone.
If voicemail notification is stuck on Android, you should clear local data and uninstall updates from the default Phone app. Do the same for the Voicemail system app.
If that fails, check notification settings or switch to an alternative Phone/Dialer app for the time being.
1. Clear data from the Phone app
The first thing you can do, after you've dismissed voicemail from the app, is to clear local data. All of this might be a temporary bug that prevents you from dismissing voicemail notifications. Clearing the data from the Phone app should fix the problem. Don't worry, this won't clear the call log or remove your contacts.
Here's how to clear all data from the Phone app:
Open Settings.
Tap Apps.
Expand all apps.
Open the Phone app from the list of available apps.
Tap Storage.
Clear data and restart your device.
Now, go back to the App list and enable Show system processes.
Locate Voicemail and clear data.
2. Uninstall updates from the Phone app
If the previous step failed and you still can't dismiss voicemail notification, consider uninstalling updates from the Phone app. This is most likely the best solution for issues with system apps. Uninstalling updates will restore the app to factory settings, to the version that came with the system.
Here's how to uninstall updates from the Phone app:
Go to Settings > Apps > All apps > Phone again.
Confirm and restart your device.
You can also do the same for Google Play Services. If the voicemail notification still won't go away on your Android, check the next step.
3. Disable voicemail notifications
Android allows you to disable individual notification categories and that's exactly what you can do with the Voicemail notification. If you're unable to dismiss it after multiple tries and after clearing data from the app/uninstalling updates, we can only suggest tweaking it in notification settings.
In this case, you can't disable voicemail notifications but you can tweak them and make them easier to dismiss.
To do so, navigate to Settings > Apps > All apps > Phone and open Notifications. Once there, change Voicemail to Silent, minimize notifications, and disable App icon badges. This should allow you to dismiss the persistent notification.
You can also open the Phone app and then Call Settings > Voicemail > Notifications for more detailed settings.
If that doesn't help, consider downloading Google Phone, here, and setting it as your default calling/dialer app. Or any other dialer app you deem worthy replacement for the default Phone app.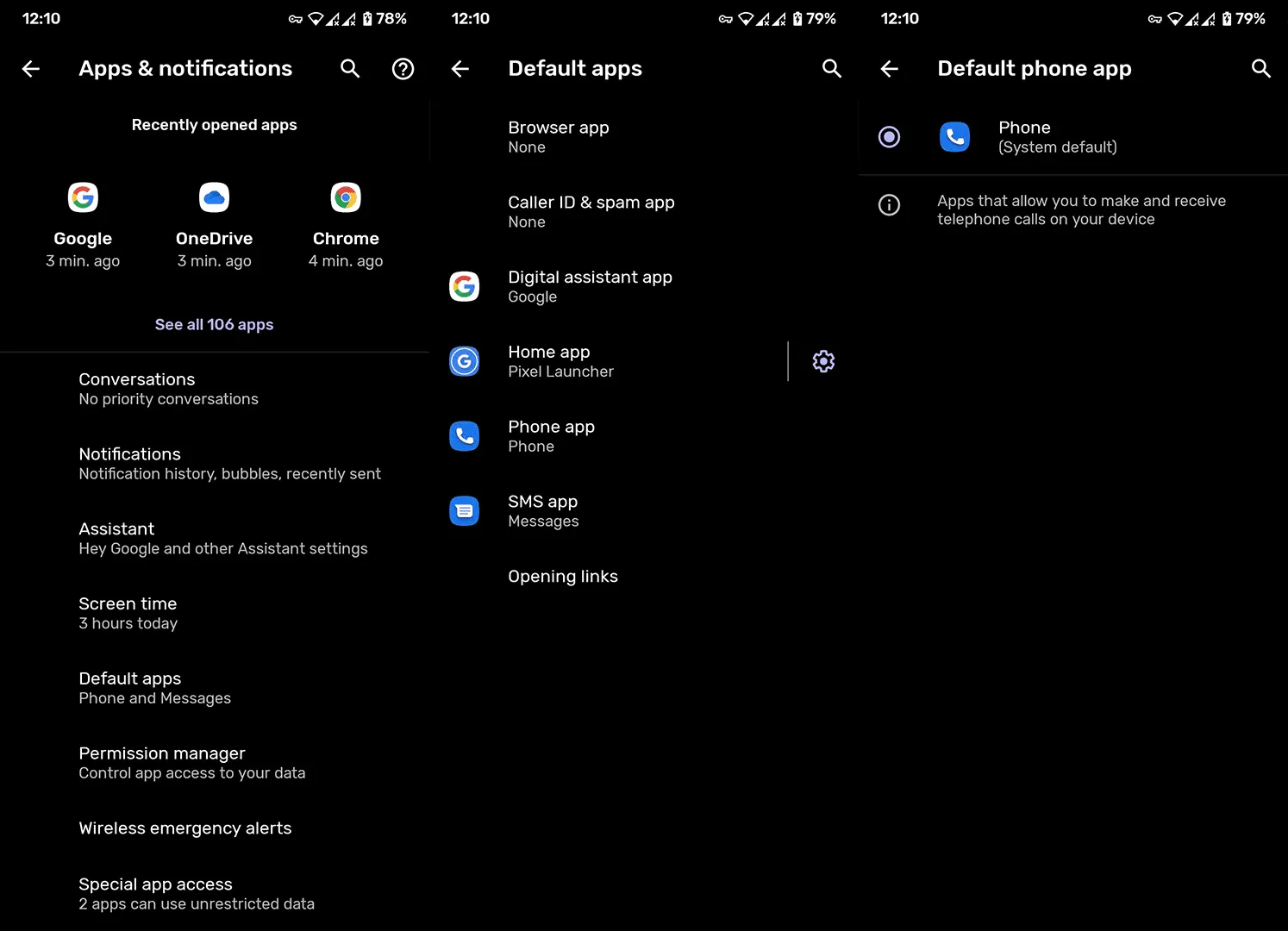 That should do it. Thank you for reading and we encourage you to post your thoughts in the comments section below. Was this a helpful read? Tell us in the comments section below or reach us on Twitter or Facebook.
Editor's note: This article was originally published in January 2022. We made sure to revamp it for freshness and accuracy.