If Spotify keeps logging you out, make sure to check the "Remember me" box.
If Spotify still keeps logging you out automatically, it is probably due to some app or server issue.
You also need to make sure that someone else doesn't have access to your account.
Updating the app and signing out of all devices and then signing in again should solve all issues.
Spotify doesn't put a limit on devices but you can only listen to music on one device at a time. The app shouldn't log you out on its own so there must be a problem of sorts, either with the app or with Spotify servers. Also, if your account is compromised and someone else has access to service settings, they can easily log you out from all devices. Learn more below.
Why does Spotify keep logging me out?
Spotify might keep logging you out if there are server issues. Also, if someone has access to your Account, they can use it to sign you out from all devices. The third possibility is that your app is either outdated or the local data is corrupt. You can fix this by simply reinstalling the app.
1. Check the server status for Spotify. You can check if Spotify is down on Down Detector. If the service is down temporarily, you just need to wait for some time until it comes back. Global issues are rare and the last major issue was reported a couple of months ago so these major outages are not exactly common.
2. Reinstall Spotify on your phone. If you are having an issue with Spotify on your phone (Android or iPhone), make sure to reinstall the app. This action will delete all downloaded tracks, so we suggest reinstalling the app with a Wi-Fi network available and not when you're out and about. You can uninstall the app from Home Screen or App Drawer (App Library) and install it again from Play Store or App Store. On Android, disable Battery optimization for Spotify and check again.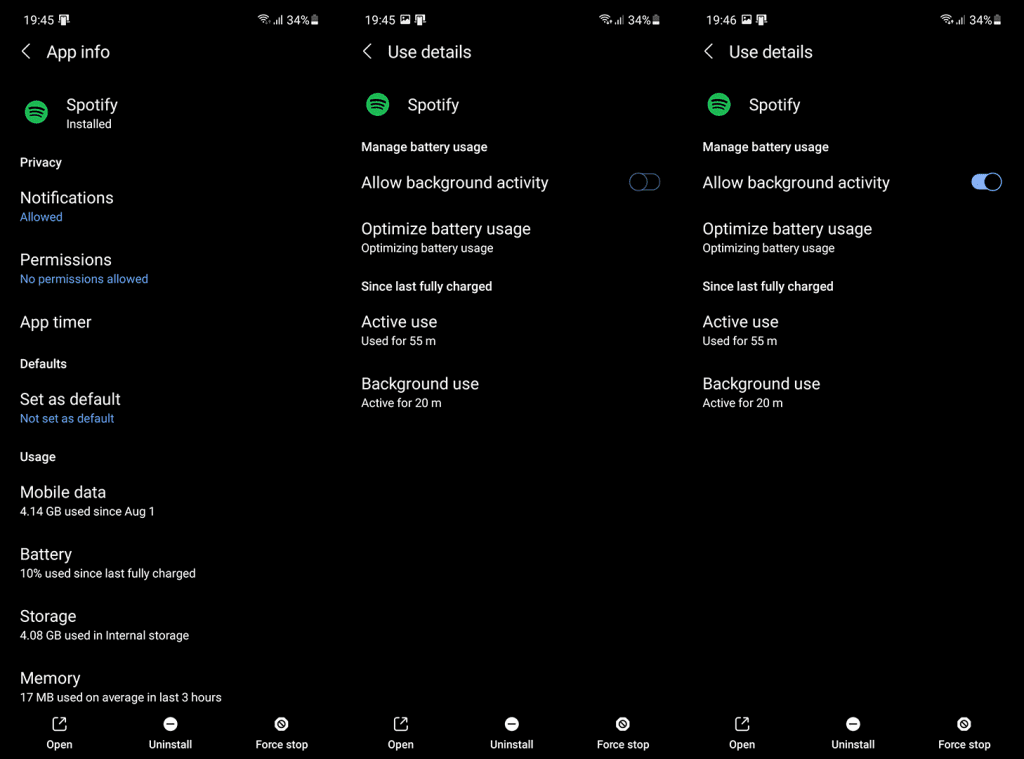 If you have issues with the Windows Spotify client, reinstallation should help, too. On the other hand, if you use Web Player in a browser, we suggest clearing the cache, disabling extensions, and ensuring that you are not using Incognito mode. Don't forget to check that Remember Me box, too.
3. Sign out of all devices, change your password, and sign in again. If your suspect someone has access to your account, we suggest to put down everything, navigate straight to Account settings, and change your password. After you change the password, make sure to sign out from all devices on the Account page. After that, get back to Account Overview and select Sign out everywhere.
4. Report the problem to Spotify. Finally, you can report the problem to Spotify. They should be able to help you out further and our experience with Spotify support, on those rare occasions we needed help, was adequate.
And, on that note, we can conclude this article. Hopefully, you don't have issues after following the instructions we provided here. Thank you for reading and don't forget to leave your thoughts in the comments section below. We look forward to hearing from you.